A Room of One's Own by Virginia Woolf
My rating: 4 of 5 stars
Virginia Woolf developed this long essay out of two papers she delivered to separate arts organizations in 1928, and given the rambling, stream-of-consciousness nature of this piece I wondered how scattered her delivery must have been.
The central argument is that in order to write, a woman needs a room of her own and 500 pounds sterling a year, luxuries that Woolf enjoyed given the inheritance from an aunt who conveniently fell of her horse in Bombay, and the fact that she had no children and had a husband, Leonard, who owned a literary press. Money allows you the power to contemplate, she postulates, while the room gives you the power to think for yourself. Intellectual freedom depends on material things and the poor artist hasn't a dog's chance. She then takes on the persona of a fictitious writer, Mary Besson, who goes to a sumptuous lunch, described in elaborate detail, and settles in the reading room of the British Library to cover the works of women writers dating from the 16th to the early 20th centuries.
The state of the female writer of yore was terribly restricted: often burdened by a husband and many children, scorned for being intellectual, deliberately deprived of education, and having no money of her own or the ability to earn it (all family money belonged to the husband). A woman who chose the literary life was often shunned and banished to live on the margins of society, labelled a sorceress. "Women live like bats or owls, labour like beasts and die like worms." Woolf cites Aphra Behn—a 17th century writer, poet and playwright—as the first woman who dared to make a living out of her writing. Woolf even creates an imaginary sister for Shakespeare and contrasts her life to the Bard's; the latter has the freedom to leave his family in Stratford and immerse himself in the theatrical world of London, while the sister ends up the pregnant and discarded mistress of a theatre manager. It is no wonder that so many male writers wrote about women but so few women writers wrote about men. Woolf believes that Elizabethan literature would have looked a lot different if the women's movement had begin in the 16th century instead of the 19th.
As she ploughs through the centuries at the British Library, Mary Besson (Woolf) arrives at the famous female novelists of the 18th and19th centuries: Jane Austen, the Brontes, Mary Shelley and George Elliot. These women had narrow social lives, often not venturing out of their villages and never travelling abroad. Within the house, being of middle class, they usually had to write in the single living room surrounded by domestic sounds and disturbances. Austen often hid her early work from the eyes of others. Many 18th century female writers wrote for themselves and burned their work at the end of their lives, never published. And given the relative newness of the novel at the time, they picked this emergent form to practice their art. These female writers had no formal training but were skilled in the art of observing character and in the analysis of emotion. They went deep instead of broad and would never attempt a wide canvas such as War and Peace. Woolf praises Austen for creating her own sentences and excoriates George Elliot and Bronte for trying to write like men. "It would be a pity, with all their education, if women continued to write like men. The differences should be brought out, not the imitation."
Woolf then invents another female writer of her own time, Mary Carmichael, and suggests that in her broken sentences and sequences Carmichael is creating a new form, just as Woolf did with her stream-of-consciousness method; Woolf wants Carmichael to go further and explore the relationships between women in her novel, for up to that time women were often defined in relation to men.
In concluding her essay, Woolf urges that writers should be gender neutral in their writing, they should be "woman-manly" and "man-womanly." I wonder whether that was why she wrote Orlando? She encourages women to write more and write from a broad canvas. She sees a time in the future when as many women as men would be writing (well, if she were living now she would find more women than men writing). And she is vehement about preserving one's voice. "Sacrificing a hair of one's vision in deference to a headmaster with a silver pot or a professor with a measuring rod is the most abject treachery and sacrifice of wealth."

View all my reviews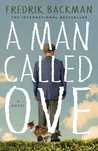 A Man Called Ove by Fredrik Backman
My rating: 3 of 5 stars
A quaint story, a feel-good one, guaranteed to be a bestseller.
Ove is a 59-year old widower who has recently lost his beloved wife and just been fired from his job. But Ove is more than just in this predicament; he is the quintessential old-timer: cantankerous, honest to a fault, reluctant to change, who sees things in black and white, who hates the 21st century and the next generation—"Nowadays shopping on credit and driving electric cars and hiring tradesmen to change a light bulb. Laying click-on floors and fitting electric fireplaces and carrying on. A society that apparently could not see the difference between the correct plug for a concrete wall and a smack in the face. No one could change tyres. Install a dimmer switch. Lay some tiles. Plaster a wall. Submit their own tax accounts." Ove swears by Saab cars and considers all others makes inferior and a betrayal of good automobile engineering. He hates people who ignore traffic signs. He laments the loss of the simple things in life: "a roof over your head, a quiet street, the right make of car, a woman to be faithful to, a job where you had a proper function, a house where things broke at regular intervals so you always had something to tinker with." He is a man looking to end it all by committing suicide.
Ove also has a love-hate relationship with Rune, his old friend who moved into the neighbourhood with him before it became a sprawling housing development. Rune buys Volvo while Ove buys Saab, their wives get pregnant at the same time, they are on the Residents' Association and have divergent views on lawn care, winter maintenance, perimeter security and other concerns of a small community. When Rune upgrades to a BMW, war breaks out between the two friends. But tragedy also stalks them: Rune's son vanishes off to America the moment he hits twenty, and Ove's baby miscarries when his wife Sonja has an accident while on holiday in Spain. Rune is heading towards Alzheimer's, and Sonja has succumbed to cancer after spending a lifetime in a wheelchair when the novel opens.
Ove spares no avenues to commit suicide, including methods such as hanging, inhaling carbon monoxide, jumping in front of a train, overdosing on sedatives and shooting himself with his hunting rifle. But his attempts are thwarted by his interfering neighbours who pop over at the most inconvenient times. In particular, the Iranian woman, Parvaneh, pregnant with her third child, is an overbearing but affectionate presence in his life, and the stray cat that takes up residence in Ove's house begin to show him that, perhaps, life is still worth living. And yet, for querulous man such as Ove, re-engagement with life is necessary, and re-engagement comes in the form of the "white shirts," government employees who are trying to take Rune away to a nursing home. A fight is in the offing, and fighting has always kept Ove alive.
The chapters read like linked short stories, involving pedestrian incidents happening in the neighbourhood: a fall off a ladder, a visit to the hospital, a driving lesson, a visit to a coffee shop, a child's party. These events are interspersed with Over's suicide attempts and his patrolling of the neighbourhood, an old habit acquired when he was president of the Residents' Association. I wondered why almost every chapter had to begin with "A man called Ove…"
The ending is predictable and all loose ends are tied up, vaulting this book immediately into the feel-good category. The take-away for me is that there is an Ove lurking inside all of us as we age.


View all my reviews
The Grandmothers by Doris Lessing
My rating: 3 of 5 stars
Four distinct novellas, distinct in voice, setting and situation. If they were indeed written as claimed towards the end Lessing's writing career, and were not fillers sketched out during fallow periods between her other books, then she still had a lot of oomph in her late 80's.
I liked the first and third stories better than the other two. The first, "The Grandmothers," told in an authoritative omniscient voice, covers the covert and happy relationship that existed between two women childhood friends and their sons. Each woman, unhappy in marriage or widowed, is sleeping with the other's son in a consensual manner. The sex is not mentioned but is pervasive throughout. The women (and their respective sons) live in neighbouring houses by the beach; all four are happy in their older-younger sexual relationships and genuinely care for each other, and yet the pressures of conventional society that demand they abandon this incestuous life and cleave to partners closer to their age, and permit the sons to have families, starts to dominate. The mothers end the sexual relationships, much to the sons' chagrin and sense of betrayal. The young wives can never be a part of the husbands' lives and we see the glimmerings of what happened with the grandmother's happening between the new mothers – an emotional bonding with each other created by abandonment. However, when the past is unleashed upon the present catastrophe results. It appears as if Lessing is questioning the traditional family model and positing that alternative forms are also viable. We are asked not to sit in judgment so that these alternative relationships can survive.
The third story, "The Reason For It," is set 7000 years ago in a foreign land, and is intended to be a first-person account by the last surviving elder that provides clues to how this civilization vanished. There are eerie resemblances with today when mass entertainment, military hegemony, the loss of libraries and other forms of culture are leading us into becoming insular, polarized societies. This civilization follows a typical cycle of Conquest—Consolidation—Destruction—Renaissance—Fall. In its final days, the new ruler DeRod is more interested in building walls around his kingdom, capturing slaves from other kingdoms to do manual work, closing down the Schools of the Storytellers and the Songmakers and spending that money on his military. The youth have grown indolent and are content just to copulate anywhere they wish, even in public and in mass orgies, whenever the mood inspires them. The sad elder also realizes that he and his band of wise men and women were also responsible for this debacle because they picked DeRod as their leader and that they fell for his charm and not his intellect. In these days of Trump, this revelation is very sobering.
The other two stories read more like the life stories of their principal characters. Lessing uses the Limited Third Person viewpoint here but is unrestrained in intervening as the omniscient narrator when she wants to move things along or make a point. And this "moving things along" also devalues the craft of story because a lot of data is thrown in at times; it feels as if these stories should have been novels and that Lessing was in a hurry to finish them off quickly, so she would chuck in data to brings us up to speed in a paragraph instead of a chapter. In "Victoria and the Staveneys" we see the world through a working class black girl, Victoria, who is been sloughed off on people as her mother is dead, her unknown father is absent, and her adoptive aunt is dying. She spends an afternoon with a upper middle class white family, the Staveneys, and is shocked that every member has a room of their own. Circumstances keep bringing her constantly into the orbit of this family, where the theatrical parents are divorced yet well off due to the famous father, the older son is interested in socialistic and humanitarian causes, and the younger is interested in black girls. She has a child off the latter, and when reduced to dire straits, throws her lot in with this family. The result: her mixed-race child starts to drift into the white middle class orbit. Victoria herself can only get that far in this social hierarchy, and her other son, born off a very black and now deceased musician, does not even figure in the Staveneys' plans. Her big reveal she learned as a nine-year old, that "white people do not see black people," seems to be still playing out in Britain in the 21st century.
The final story, "A Love Child" covers the life of a studious, poetic young man, James, from just before he enlists for WWII and into his middle age. The seminal event that shapes his life is a four-day affair he has with a married woman, Daphne, in Cape Town while en-route to India during the war. There are rumors that a child resulted, and reuniting with Daphne and this child becomes James' sole purpose in life. When the war ends and he is sent home, the ships sail through the Suez Canal and he is unable to travel back to Cape Town until years later when he has already married and has a family of his own. What was most interesting to me was the account of soldiers who never saw combat and had to deal with the boredom of war, the harrowing sea journey from England to India via the Cape for 5000 soldiers who had never sailed in the ocean, and the passionate, dreamlike, four-day affair between James and Daphne. Lessing brings Cape Town and it's racist society to life: when a white woman can walk naked in front of her male black servants and not feel embarrassed one is again reminded that "white people do not see black people."
These novellas, despite some of their limitations, are engaging and the variations in styles help pick up one's interest between stories.
The First Man by Albert Camus
My rating: 3 of 5 stars
Given the number of inaccuracies, author's footnotes, and the incompleteness of the ending, one has to treat this as an unfinished novel, or a memoir with names fictionalized. Nevertheless, the fact that the manuscript was found in the wrecked vehicle in which Camus perished, and that it was published 35 years after he died, gives it a special place in the Nobel prize-winning author's canon.
The book covers Camus' birth in 1913 until his graduation from school at the age of 15 in Algeria. The narrative is told by an older Camus (or Jacques, per his fictitious name) in his forties, who is visiting the former colony from France to discover who his father was, a father who left the family when Camus was a year old and went to fight for France in the First World War, never to return. The bereft family of the mute mother and two sons (Jacques is the younger) go to Algiers to live with the maternal grandmother and uncle. Life at Grandma's is unhappy, impoverished and devoid of love. Grandma is the boss and beats Jacques for the slightest transgression. She also wants this gifted student to quit his studies and find a job to help keep the family aloft. Thanks to a benevolent teacher, the family is persuaded to delay their material gratification until young Jacques can complete his education for a higher return on their investment.
Two-thirds of the book is the older Jacques' search for his father, whose family migrated from Alsace to Algeria during the time of the Second Republic in France in 1848. Jacques has difficulty reconciling that his father died at 29 while he is now an older man. In the process, we are treated to his minute recollections of childhood. The complex but mellifluous sentences in this book are its main draw. Camus conjures colonial Algeria in her last days of empire extremely well. The French in Algeria are lost souls, persecuted persecutors, living in a land without forefathers or memory. When Jacques has to fill up a school admission form, he wonders what his nationality is, and settles on "French." In Algeria, there is a distinction between the French resident and the Arab local, and there is the influence of the Spanish as well who occupy parts of Morocco next door and whose mother country and Balearic Islands sit across the water from Northwest Africa. Grandma is of Spanish heritage.
We get detailed accounts of life with Uncle Ernest, the cooper; après-school antics on the commercial drag, the rue Bab Azoun; the "sugar cane: (aka the strap) administered by the otherwise kindly teacher, M. Bernard; summer employment stints that confirm to Jacques he is not cut out for clerical work; life at the lycee, including duels between students; outings at the beach and games played between children. The eccentricity of poor people of a bygone time makes for curiosity. Jacques' later proclivity towards sensuousness is caused by his mother's withdrawn nature and his grandmother's cruelty. "Poor people's memory is less nourished than the rich. It has fewer landmarks in space because they seldom leave the place they live in." People struggling to survive have no time for affection.
This book made me wonder why such detailed recording of history was important to the author, and to all memoirists, for that matter. Life in colonial Algeria appears no different to life in colonial Ceylon where I grew up, a member of the European colonial remnant. We did the same things that Jacques (or Camus) did. But why is it important to record? A freezing of time? Capturing a society that has all but disappeared? A quest for immortality? I'm sure it's a combination of all these things. For me, reading this book was a validation that being a colonial relic is as hard as it is to be part of a colonized nation, especially when the balance is restored, nationalization takes place, and the tables are turned. The quest for identity and purpose for everyone becomes fierce at these inflection points.
I Am No One You Know: Stories by Joyce Carol Oates
My rating: 3 of 5 stars
A diverse collection from a prolific writer that got me wondering how to categorize these stories, the only common theme being that they all had been previously published in literary journals and magazines, and therefore many ran about the same length. It seems to be a pattern with Oates who periodically takes everything she has published recently and sticks them into a book, and publishers seem game to take this on for the long anticipated but hitherto unacknowledged Nobel laureate-in-waiting.
The collection is divided into four uneven parts. The number of stories in each part varies, and I couldn't understand the reason for this sub-division. Was it even necessary? Family dysfunction dominates parts 1 to 3, while a surreal atmosphere lurks over Part 4. The stories are set in the states of New York and New Jersey, in particular around the small towns on southern shore of Lake Ontario, which interested me as I live in a small town on the northern shore of the same lake. The narratives are non linear and jump back and forth in time. Every story tries to introduce a new voice as its narrator, a new syntax, and this is impressive, in particular the voices of teenagers caught in sinister situations. A strong thread of predatory sexuality runs through the collection, and the stories engage immediately. The guilty ones are alluded to but never openly exposed, as the endings are often open ended to the point that many interpretations are possible— some would consider this a plus for the short story, but I need to have a bit more than a suggestion of guilt. The downer is that a lot of back story has to be covered on the characters and therefore there is a lot of "telling."
The most impactful stories to me were: "Jorie and Jamie" in which the mental illness of a child and its destructive effect on her family is powerfully rendered through the eyes of one of her siblings; "Wolf's Head Lake" in which a woman ponders the likelihood of a sexual predator casing the joint among the myriad of lakeside cottages in search of a new victim; "The Girls with the Blackened Eye" in which a 13-year old is kidnapped and abused by a sexual predator and forced to watch him do the same thing with an adult woman; "The Instructor" where a young remedial English teacher develops an attraction for one of her students, an adult male recently released from Death Row; "The Skull", a renowned sculptor remakes the shattered skull of a murder victim to assist the police investigation and triggers a revelation of his real character—but as I mentioned earlier, guilt is only a suggestion. The final story in the collection, "Mutants," conveys the atmosphere of surrealism when a woman is trapped inside her Manhattan apartment during 9/11 and starts to act out of character. Much has been commented on the Marilyn Monroe story, "Three Girls," but I thought that the more interesting characters here were the other two girls, and I wondered whether Monroe was a figment of their imagination and desire, triggered by their heightening attraction for each other?
What impresses me most is Joyce Caro Oates' versatility. I have read her novels, non-fiction, and now, short fiction, and she excels in all three departments. And the sheer volume of her oeuvre staggers me, with very little repetition in theme, other than for the Kafkaesque stain that spreads over all her work, a darkness out of character with the staid and sheltered college professor she has been for most of her life. Which goes to show that copious and diverse reading helps us escape the narrow confines of existence, and that imagination works better than experience when it comes to telling a rollicking good story.
Zuckerman Unbound by Philip Roth
My rating: 3 of 5 stars
Every writer aspiring for fame and fortune would be advised to read this book. It will certainly cool any wannabe's ardour.
Nathan Zuckerman, Roth's alter ego, has just vaulted into the millionaire ranks with the success of his fourth novel, Carnovsky, a proxy for Roth's own Portnoy's Complaint. The problem is that Nathan doesn't know how to live like a millionaire: he still visits the neighbourhood sandwich shop, travels on the subway and is not very much into socializing. He has just left his third wife because he tires of self contained women and needs to find his freedom (conversely, his first two wives were needy women whom he needed to escape from too). The additional problem is that he is now considered a traitor by the Jews of Newark for having exposed all their quirks in his novel. He feels he is being followed, that the perpetrators mean him and his family bodily harm; how much of this is paranoia vs. reality is revealed as the book unfolds.
Central to his paranoia is a character called Al Peppler who accosts Nathan on the street and sticks with him like a leech. Peppler knows everything about Nathan, and is a two-time war vet who was making it big on a TV game show when he was cut down to size due to his Jewishness, he claims. Peppler is now courting a music producer to get his exposé novel on the state of America converted into a Broadway musical, and wants Nathan's opinion and approval. When Nathan shies away, he gets threatening phone calls from people demanding ransom money for a kidnap yet to happen on his mother; Nathan wonders whether the voice is that of Peppler.
Nathan's agent seems to know the answers to this condition, as he has managed many artists through their breakout phase with its attendant psychoses, and tries to get Nathan to scale up: date a Hollywood actress, be seen in society circles, buy a car, upgrade his wardrobe, get a bodyguard. Nathan tries to comply but he is stuck in who he really is, and with the guilt that perhaps he did let his people down with his breakout novel.
The novel suddenly dives into the family as Zukerman Sr., Nathan's father, a veteran sufferer of strokes, suffers a fatal coronary. Zuckerman Sr. was a career chiropodist who was also a great letter writer, writing copiously to presidents and vice presidents to express his views on Israel, the Vietnam war and other hot topics of the time. Family members gather around the dying man's bed in Florida and the dysfunction within this ostensibly stolid family starts to emerge: Nathan's inability to talk anything meaningful with his father other than the Big Bang theory; reticent dentist brother Harry who followed the family expectation of duty to family over his desire to become an actor and consequently is having multiple affairs with patients and staff while remaining dutifully married to his first and only wife; Nathan's mother who is reeling from the shock of caring for an overbearing husband over a lifetime and now has to deal with this final mile. Nathan seems to be the only one who has soared free of the family yolk, but when his father's last word to him is "Bastard," he agonizes whether he has heard right. Any other word but the dreaded B word would be okay, for that word would reduce everything he has aspired to and achieved into nothing. When Harry finally bursts out and corroborates what the father had said, adding that Nathan is a "heartless and callous bastard" and a "destroyer of Jews" the grim returns of Carnovsky are clear.
It appears that Roth needed to write this book to show the aftermath of his success as a writer. And the launching of a bestseller, especially one that exposes weak points in a community, is not a walk to the bank but the exchange of one set of traumas for another. Nathan Zukerman remained a good alternative for Roth during his career as a writer, a persona to be assumed after a major work in his ouevre was published so that he could rationalize its outcome not only from the monetary but from the emotional, psychological and spiritual levels. This is a good book for those who are familiar with Roth's work, and in particular for those who have read Portnoy's Complaint and other Zukerman novels.
A Treatise on the Novel by Robert Liddell
My rating: 3 of 5 stars
I consider myself fortunate to have finally read this book that was gathering dust in my personal library, one picked up at some used book sale years ago and marked "to be read" with no real hope that it would ever be. Though dated, it has some pearls of authorly wisdom.
Liddell breaks out the book into sections that deal with Literary Criticism, the Novelist's Range, the Novelist's Values, Plot, Character and Background, and sums up the book by bringing all his teaching into critical evaluations of Henry James's The Turn of the Screw and the works of Ivy Compton-Burnett.
In the opening on Criticism he has two categories: (I) Novels Worthy of Criticism and (II) Novels Below Serious Criticism. In section (I) There are (a) Good Novels and (b) Novels that might have been good. Section II is comprised of Middlebrow and Lowbrow works. He makes no bones about whom his favourite authors are: Jane Austen, Virginia Woolf, Gustav Flaubert, Henry James and Compton-Burnett. Among his section (I)b and (II) fall his less desired authors such as Aldous Huxley, Thomas Hardy, E.M. Forster, Marcel Proust, D.H. Lawrence and John Galsworthy. Edgar Wallace gets a passing mention, no doubt consigned to the Section II – Lowbrow category.
In the section on Range, he delineates Experience from Range. Only fragments of a writer's experience filter into his creative space to create range. A writer should always write within her range even if it is narrow, for one is able to go deep and not get lost in going broad – e.g. Jane Austen, Emily Bronte and Compton-Burnett who did not have much experience in the world outside of their domestic and social circles but kept their fiction within this milieu. Two novelists who exceeded their range and failed according to Liddell are Maugham and Isherwood.
In Values, he argues that a Novelist should be a humanist above their political and religious leanings. Humanism is defined here as making for breadth, tolerance, equilibrium and sanity. D.H. Lawrence is pointed out as a failure here for distorting plot and character to serve his anti-humanist values. Liddell argues that the values between the novelist's "writing self" and "worldly self" may differ. He emphasises the need for detachment of the novelist: "if Rome were burning, the novelist cannot be filling buckets of water, and must resist efforts at mobilization."
In the next two sections on Plot and Character, he agrees that the two are only artificially separable and endorses Henry James's view that "Character is Action and Action is Plot." He debates the "perversity" of the novelist and argues the pros and cons of developing a plot based on a single episode. Plots should result from growth not manipulation. In the Character section, he argues how flimsy is the disclaimer that "any resemblance to people living or dead is entirely co-incidental" – it's more for the benefit of the bookseller's assistant charged with stocking shelves with fiction and non-fiction than for the reader. All characters are selectively drawn from a collection of real life personages the novelist has come into contact with. He makes a distinction between "flat" characters ( i.e. Dickens's) who embody single or similar traits and "mixed" characters who have strengths and flaws.
Background, he claims, must always be incidental to character in action. There are physical backgrounds and the more dramatic backgrounds of the mind, the latter that authors like Austen and Woolf (with her stream-of consciousness style) were able to exploit to stronger effect. The background of the mind is also a strength of the novel, for other art forms have difficulty conveying it effectively. He rails at Gallsworthy for his minute descriptions of physical detail: "We learn about everyone in The Forsyte Saga from their furniture or food."
The final section, his critical appraisal of James's The Turn of the Screw and Compton-Burnett's oeuvre, is deep but as I have not read these works, I couldn't get a full appreciation of it. I have made a note to self to read these books and revisit Liddel's appraisal of them.
I have only made a cursory tour of this book which is loaded with wisdom on the evolution of the novel and is a gem, for authors in particular. A Treatise on the Novel may now be out of print and been superseded by others that have extended the study of the novel. But I found it useful, particularly Liddell's observations and quotes, as well as the quotations by other authors that highlight their deep investment and attachment to this form, one that continues to evolve and challenge us.
The Golden House by Salman Rushdie
My rating: 4 of 5 stars
(This review was published in The Wagon Magazine in July 2018, and is reproduced here)
The Golden House, a novel by Salman Rushdie, reviewed by Shane Joseph
This was one of my more enjoyable Rushdie books, similar to Shame that I read years ago, where the pomposity of narration, the digressions into classical mythology, the literary allusions—Rushdie hallmarks—were kept to a minimum while the author focussed on a rollicking good story and the central question: Can Good and Evil reside in us?
The denizens of House of Golden reminded me of the Trump family (I'm sure Rushdie didn't mean it, did he?) on the inside; the Joker who wins the US election in 2016 is Trump on the outside (I think Rushdie definitely meant this one, including labelling Hillary as Batwoman). DC Comics' Gotham and Metropolis both reside in New York City. The narrator, Rene, is a budding screenplay writer, and so the story is a combination of movie scenes, monologue, dialogue (with and without quotes), first person and third person narration, all wonderfully woven and easy to comprehend, making me now question the traditional form of the novel that we learned in writing school. We pan in and out of scenes as if we are wielding a movie camera: Bombay is initially "the city whose name can't be mentioned" until we zoom into the Taj Mahal Hotel; Nero Golden, the patriarch, a throwback to a Roman emperor and now exiled in an upscale neighbourhood of New York City's Greenwich Village, pans into an Indian billionaire who made his money in construction, hobnobbed with Bollywood starlets and laundered money for the mob. Nero's dysfunctional adult sons (living at home with Daddy) embody all that's wrong in America: Petya is a ADHD affected video game designer, Apu is a doomed artist living the hedonistic lifestyle, and Dionysius is gender confused and suicidal. Enter the young Russian femme fetale, Vasilia, determined to score a son off Nero, by hook, crook or proxy, and the connection with America's First Family is complete.
I learned a lot about the movies in this book, for Rene is unable to restrain himself from bringing half a dozen movie metaphors into each scene. And The Golden House itself reminds me of The Great Gatsby crossed with The Rise and Fall of the Roman Empire. Rushdie's insightful and inciting observations on contemporary society filter unabashedly through his characters:
a) The big bucks are in fantasy and non-fiction (when it came to films and literature).
b) "Post-factual" = "mass market and information age troll-generated."
c) The reality-check for the immigrant is "the day when he accepts that the idea of return is an illusion."
d) "Guilty secrets make paranoids of us all" (with apologies to Shakespeare's Hamlet, of course).
e) "Faith dies when you are praying and suddenly realize that no one is listening."
f) Another way of looking at the elites, hated by Trump supporters: "Knowledge is not power, knowledge is beauty."
g) Identyism is the legacy of the Joker, and the reclamation of America from its super-villain is now the focus, arming oneself with love and humanity for weapons.
Rushdie's penchant for irony is abundant: Nero the money launderer, the dhobi, receives a pile of dirty Indian clothes on his doorstep one day, heralding his doom; the construction industry that made Nero is also the one contributing to his downfall; Apu goes to India to exorcise his mother's ghost, only to become one himself; Rene attains stardom with his film on the Goldens only to lose the people he values most in life.
Like Nick Carraway in The Great Gatsby, Rene, is both observer and participant in the Golden tragedy. The story line is more movie than novel, including the dramatic ending where the principle characters get their just deserts while others suffer random deaths at the hands of the likes of active shooters and platform pushers. I thought the obvious foreshadowing that bordered on Bollywood could have been toned down, though.
The House of Golden collapses just like Emperor Nero's did (even fiddle music is heard during the inferno, but is not confirmed!) and I wondered whether this was Rushdie's warning to The House of Trump? One can't help but feel sorry for Nero Golden: for all the wealth and hubris he amassed, he also paid dearly for these transient, material gains during his life. He may have been a bastard, but he was a bastard with conscience—good and evil did reside within him, and within most of the principal actors.
Shane actively reads and reviews books by other authors. Below are his most recent reviews.